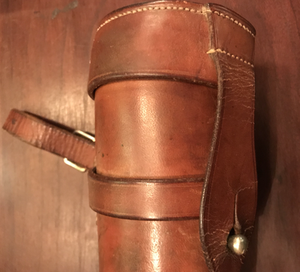 This wonderful old English made leather flask case comes with a hand blown glass flask with a silverplated nickel, hinged top. It is just over 10 1/2" long with the silver top in the closed position. The flask is James Dixon & Sons and has their maker's mark, the bugle & banner. It is probably 1930-1940.
It is in collector's condition but could still be enjoyed in the field. The leather is in great condition and the stitching is true. It has a fabulous patina. 
However, please note that if you wish to use this case, the billet strap may need to be retrofitted by your saddler, as this flask case was made before the forward seat was popular. Thus, it might not be long enough for your saddle.