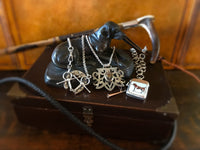 Hunting for something special?
We are your source for fox hunting, racing, sporting and all-around equestrian style. We offer unique vintage and antique gifts and collectables ranging from jewelry, whips, hunting equipment and appointments and other fox hunting & sporting decor.
Visit our Gone to Ground page to see previous inventory. If you are looking for something similar or perhaps have a treasured item to sell, please contact us.
In addition to antiques and hunting items, we offer one-of-a-kind necklaces, bracelets, earrings, rings and cuff links, all individually crafted from antique and modern equine themed pieces. We are the place to shop for the equine inclined!
Learn More About Us
Elizabeth is super easy to work with. I told her what I was looking for and she found it. She also perfectly described what I was getting and sent tons of pictures so there were no surprises

Lori
I purchased a beautiful crystal stock pin and a pewter frame. Both pieces are gorgeous! I can't wait to wear my new pin the next time I hunt!

Paige